Elevate Your Supply Chain with
AlgoPro
Algo's 3 principles of exceptional supply chain services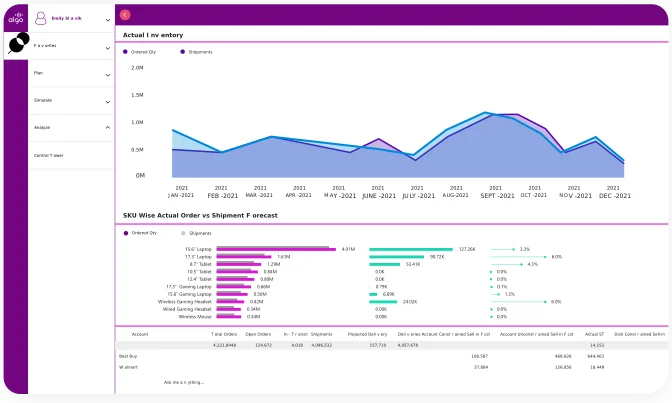 Approach customer success holistically
Lasting success requires a multifaceted orchestration of effort. Algo's US-based team takes ownership of your business success, and leverages our global centers of excellence to achieve your strategic objectives. Our mission-oriented approach focuses on building robust client partnerships.
Provide access to diverse expertise
Tap into a vast pool of digital supply chain talent. Your Algo Pro partner acts as a focal point for our cross-functional team of business and technology experts. We address every aspect of your supply chain needs, from high-level strategy to subtle technical details.
Accelerate digital transformation
Watch your ROI grow exponentially. Your Algo Pro partner remains committed to achieving and exceeding your evolving operational goals. We continuously optimize your business processes, innovate, educate, and spearhead project and change management initiatives.
Algo is not just a solution. It's a
partnership.
Maximize efficiency through enhanced supply chain visibility, connected planning, and optimized resource allocation. Algo provides professional services to assist you in your digital transformation journey by applying integrated business analysis and data science to your diverse enterprise functions. Your dedicated Algo partner will provide recommendations on how to optimize your inventory, business processes, and supply chain plans.
The Algo difference is our people.
With a focus on long-term enterprise value and customer success, Algo Pro services accelerate the digital transformation of your supply chain. Your Algo Pro partner will use Algo's integrated supply chain platform, process mapping tools, advanced scenario modeling, and the combined expertise of our technical and functional teams to help you generate sustainable performance. From seamless solution adoption to full-service supply chain consulting, Algo Pro services maximize ROI through stress-free change management.