Algo's formula for high-fidelity omnichannel supply chain insights
Unified, Cross-Functional Visibility
Easily monitor your inventory and demand across all channels and locations. Algo's supply chain control tower reduces your reliance on manual spreadsheets and unifies information from all your data sources in one intuitive, interactive, visually rich interface. Collaboratively analyze your supply chain KPIs in real time and quickly identify outliers and high-value opportunities.
Agility at Scale
Gain a clear, multilevel understanding of your global supply chain. Algo's Control Tower has a summarized view of Sales & Operations that can easily be drilled down to the most granular level. Focus on exceptions for efficient decision-making. Filter and slice measures along multiple business dimensions, including complex product, channel, and location hierarchies.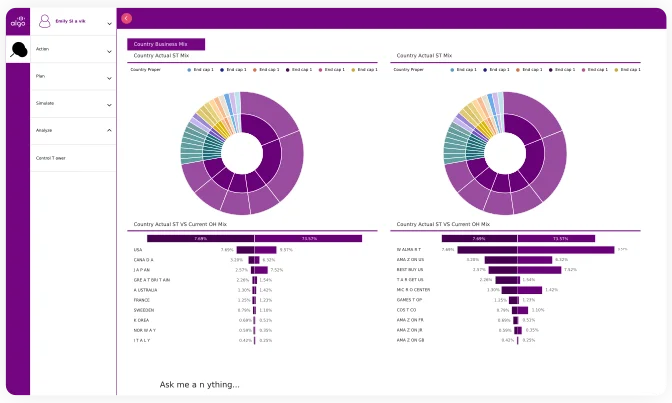 Smart Workflow Integration
Intelligently unify omnichannel visibility with agile supply chain control. Algo Control Tower acts as a foundational component of your supply chain management toolset. It works seamlessly with Algo's other supply chain planning solutions, as well as with third-party applications, enabling you to rapidly move from insight to action.
Functional and Technical Experts
Algo's team of functional and technical experts bridges the gap between Operations and IT to provide all the support you need to align our Control Tower solution to your processes and maximize value. Unlimited training and iterative solution configuration help future-proof your investment.
Key Supply Chain Control Tower
Features
Results and outcomes
Clients using Algo typically report a significant increase in sales forecast accuracy, leading to improved sales performance and customer satisfaction. They also experience efficiency gains, freeing up time for strategic activities that drive growth.